DuraTherm
DuraTherm® Asphalt Inlaid Surfacing System

Built Tough for High-Traffic Crosswalks
DuraTherm® is a specially-designed preformed thermoplastic material that is inlaid into imprinted asphalt using StreetHeat® asphalt reheating technology. The process of inlaying DuraTherm® into asphalt protects it from wear and ensures that it retains its attractive look for years. Communities across the country agree that DuraTherm® enhances both the beauty of their neighborhoods and pedestrian safety among shared roadway users.
DuraTherm® helps to:
• Improve traffic safety especially at intersections and multi-use paths
• Enhance visibility for motorists, cyclists and pedestrians
• Promote and/or revitalize community image and pride
• Channel pedestrians across busy commercial parking areas
Decorative Pavement Marking (DPM) has been a Certified Applicator since DuraTherm's introduction in 2004. We have been involved in the layout and installation of all DuraTherm projects within the State of Minnesota. DPM can help you choose the right application for your specific project.
Features
DuraTherm Features
Benefits:
DuraTherm®, offers ADA compliance, fast installation, lower cost, and minimal maintenance compared to stamped concrete and pavers which can result in maintenance headaches, pedestrian hazards, slow installation, and lengthy traffic disruptions.
Performance-based features:
Fast Installation: Crosswalks can be ready for traffic in as little as 90 minutes per lane.
High Skid/Slip Resistant: Anti-skid materials are added at time of manufacturing for a more consistent, controlled application.
Enhanced Durability:
• Designed specifically for high-traffic crosswalks
• Provides optimum wear in adverse conditions
• Snowplow friendly
• Eliminates the maintenance and safety concerns of loose pavers
Accessibility: DuraTherm® is inlaid to be flush with the asphalt. There is no additional vibration or rigid bumpy effect and, therefore, is wheelchair friendly.
Maintenance: Virtually maintenance free, but it is also easy to repair sections of material quickly and with minimal traffic disruption. Remove the damaged section, replace with new material, and heat in place.
Manufacturing Control: All DuraTherm® preformed thermoplastic materials are made at Flint's manufacturing facility which is ISO 9001:2008 certified for design, development and manufacturing.
Colors and Patterns
DuraTherm® Standard Colors and Patterns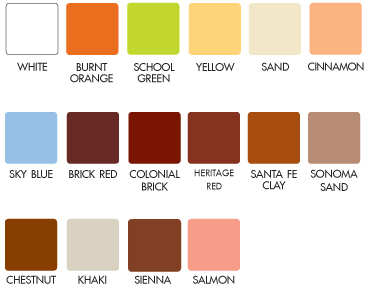 MSDS
Documents
DuraTherm Documents
Specifications: